Events
29 November 2021
15:00 - 16:30
Microsoft Teams
Transmission in Motion – Meet the Makers: Bram Ellens
 Meet the Makers: Bram Ellens
Date: 29 November 2021
Time: 15:00 – 16:30
Location: Microsoft Teams
Event page 
In the upcoming "Meet the Makers", an event hosted by Transmission in Motion, our collaborating artist Bram Ellens will discuss the making of and ideas behind his exhibition "Robots in Captivity". Members of Performing Robots, Irene Alcubilla Troughton and Ruowen Xu, will be joining the session to share their own research perspectives in relation to his works.
See below for more information!
Meet the Makers aims to facilitate meetings and conversations between academic researchers and students, and makers – such as artists, curators, dramaturges, designers, or other creative practitioners and professionals within the wider field of arts and culture.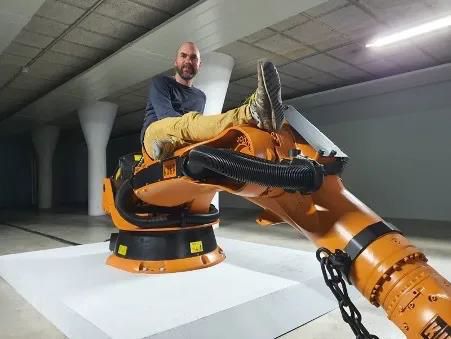 In this session of Meet the Makers, artist Bram Ellens will share his thoughts about his exhibition "Robots in Captivity" in Buitenplaats Doornburgh: a kennel of robots trapped in chains and cells. Ellens will reflect on his experience as a maker and will engage in a dialogue about the exhibition with Irene Alcubilla Troughton and Ruowen Xu who, from the perspective of their own research on theatre and robotics, will bring up questions and reactions to his work. 
Bram Ellens is a multitalented autodidact artist. He has a background in technology, entrepreneurship, music, and art. As an artist, Ellens has a focus on sculptures and installations. His work is often theatrical with a grand gesture and is often displayed in large spaces. Currently, he is working on, and exhibiting his "Robots in Captivity" series at Buitenplaats Doornburgh.
Suggested reading/viewing 
Check out the website www.robotsincaptivity.com to get acquainted with the exhibition! You can also look for #robotsincaptivity on Instagram. 
Are you interested in learning more about research on robots? Please find more information on the website of Performing Robots.
How to join the meeting 
• If you are a student or employee at Utrecht University, you can join this meeting by becoming a member of the Meet the Makers MCW Team through this link, or by using the following code: ltnlsz5 You can also join this meeting directly: Click here to join the meeting

 

• If you are outside of Utrecht University, please send an email to tim@uu.nl and you will receive an invitation to join the Team!

 
This MtM session is organized in collaboration with Buitenplaats Doornburgh, where Bram Ellen's exhibition "Robots in Captivity" can be visited until 9 January 2022! 
We hope to see you there! 
P.S. Keep an eye on the TiM website for more information on Meet the Makers!